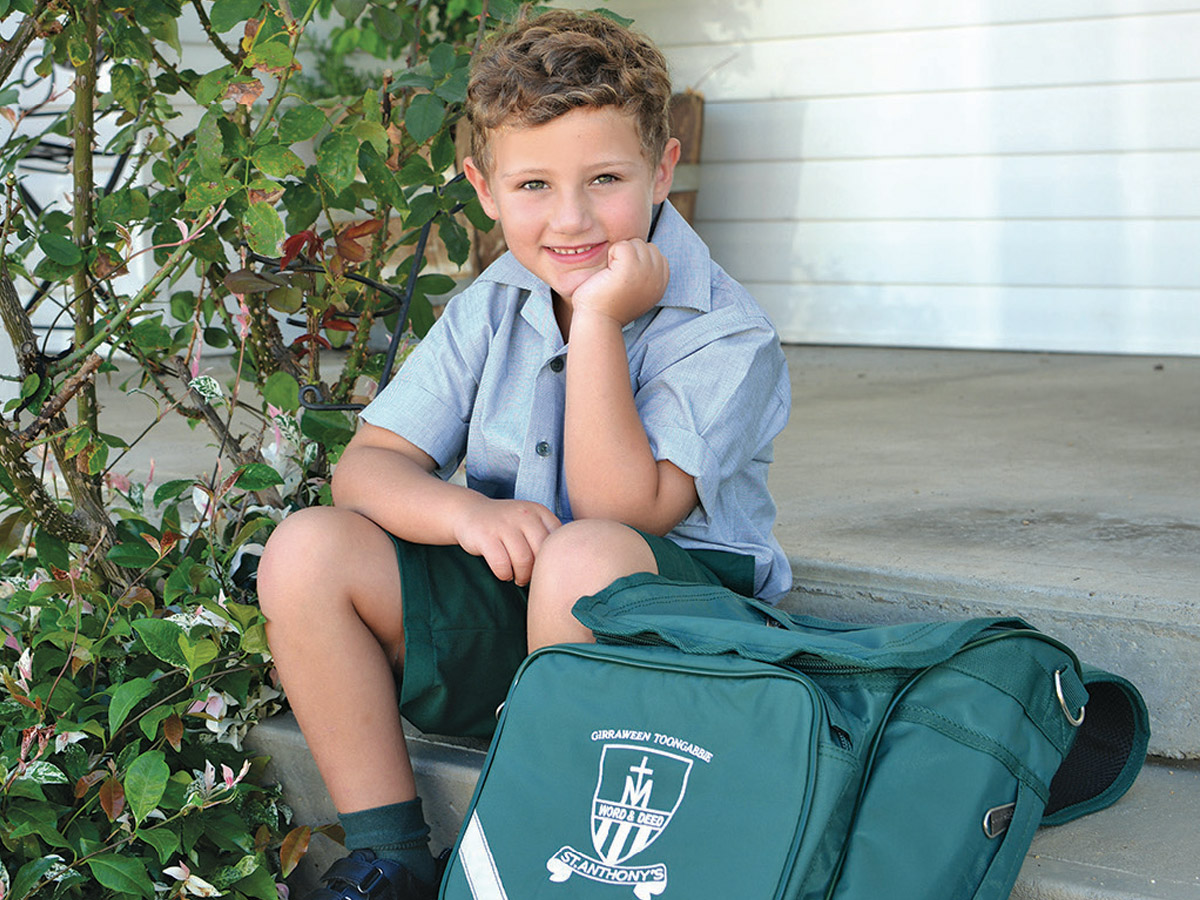 Lincoln Ashmore is excited for his first day at Kindergarten. Photo: Melissa Stevens.
With the summer school holidays coming to an end, many children are getting ready to head to school for the very first time.
Whether it's feeling proud or a little scared, dropping your child off at school for the first time is guaranteed to bring on a mixed-bag of emotions for every parent.
For Toongabbie local parents Blake and Leanne Ashmore, sending their eldest child Lincoln to kindergarten at St Anthony's Primary Girraween will definitely result in a few tears.
"It's exciting and it's emotional, it definitely went really quick but also slow at the same time," Leanne said.
We're excited for [Lincoln], just the opportunity to make new friends.
It's a full circle moment for the Ashmore's, with both parents having attended St Anthony's Primary Girraween when they were children themselves.
Now, Blake and Leanne are looking forward to Lincoln making new memories at the school they both loved going to.
"We love that it's a family school and they've been very welcoming from the start, you just feel the warmth when you're there. We didn't really think of going anywhere else," she said.
"I felt like it was a really good school, there's teachers that were there that really impacted my life to this day," Blake added.
Although the Ashmore's know the school well, it still feels daunting getting Lincoln ready to send him off to 'big kids school' for the first time.
Fortunately, knowing who his teachers will be has helped to ease some of the stress.
"We've already been for some orientation sessions, where we've met [Lincoln's] teachers, and it's just put him at ease knowing that he's going with people that he knows now and that he's familiar with," Leanne said.
But children and their parents aren't the only ones full of nervous excitement for the first day back, with St Anthony's Primary Girraween Principal Patricia Reilly saying teachers are also looking forward to welcoming students back.
"We're a bit like the kids, teachers have started to get butterflies in their tummy with the excitement for the first day," she said.
Reilly acknowledges the first day at school for new students is always the "most difficult" moment for parents, but promises them their children will be okay.
She advises parents to look at the resources their children's school has given them to help make the first day a bit easier. "Teachers are there to teach your children whatever they need to know, so don't be anxious about what [children] do or don't know, that's our job," Reilly said.