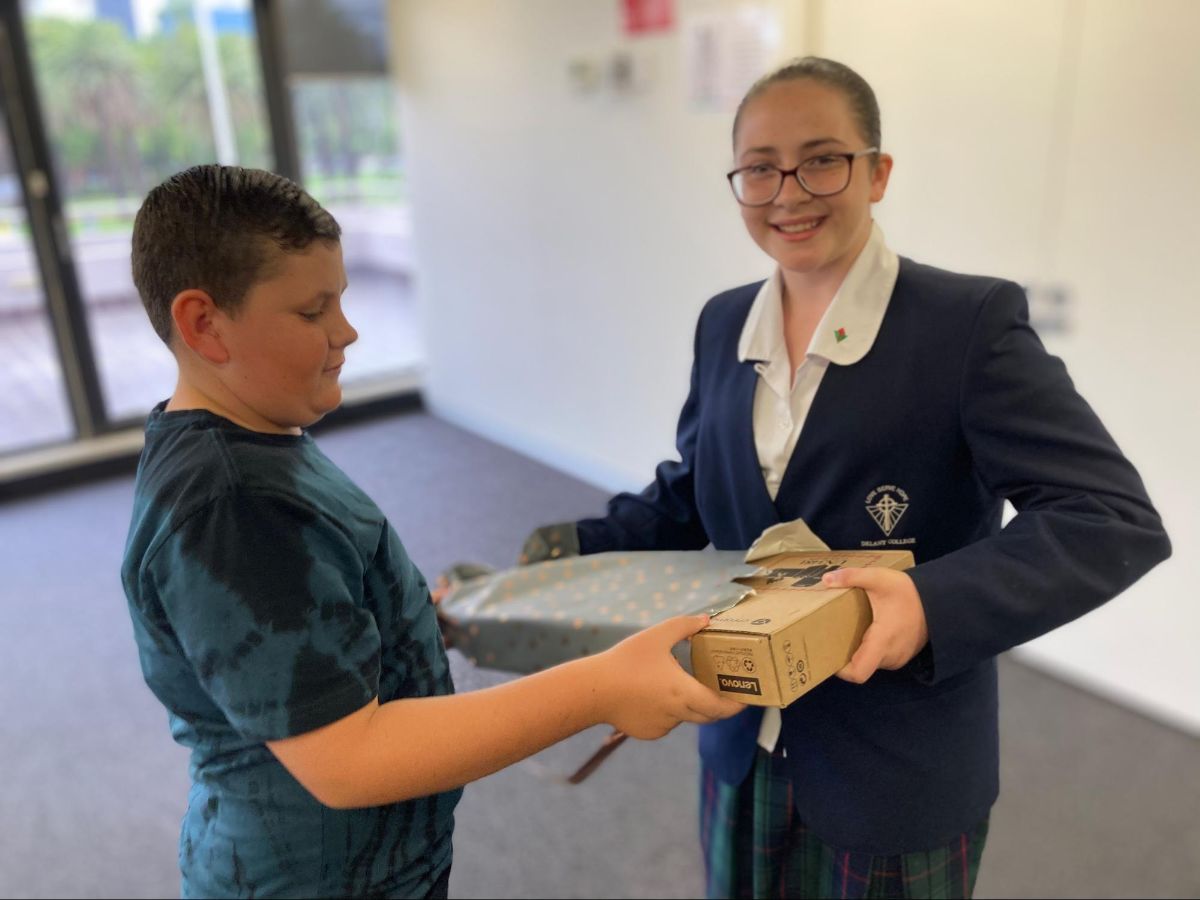 Delany College Granville student Matilda Jenkinson opens her prize, with assistance from younger brother Logan, a student at Our Lady of Mount Carmel Primary Wentworthville.
This year 661 students from Catholic schools across Western Sydney and the Blue Mountains stepped up to take the Executive Director's Summer Reading Challenge! In total, 4185 books were read as part of the competition: over 1000 more books than last year!
The competition promotes reading throughout the school holidays by encouraging students to read as many books as they can for the chance to win great prizes including two Google chromebooks. The two major prize winners and 30 runners up were selected at random.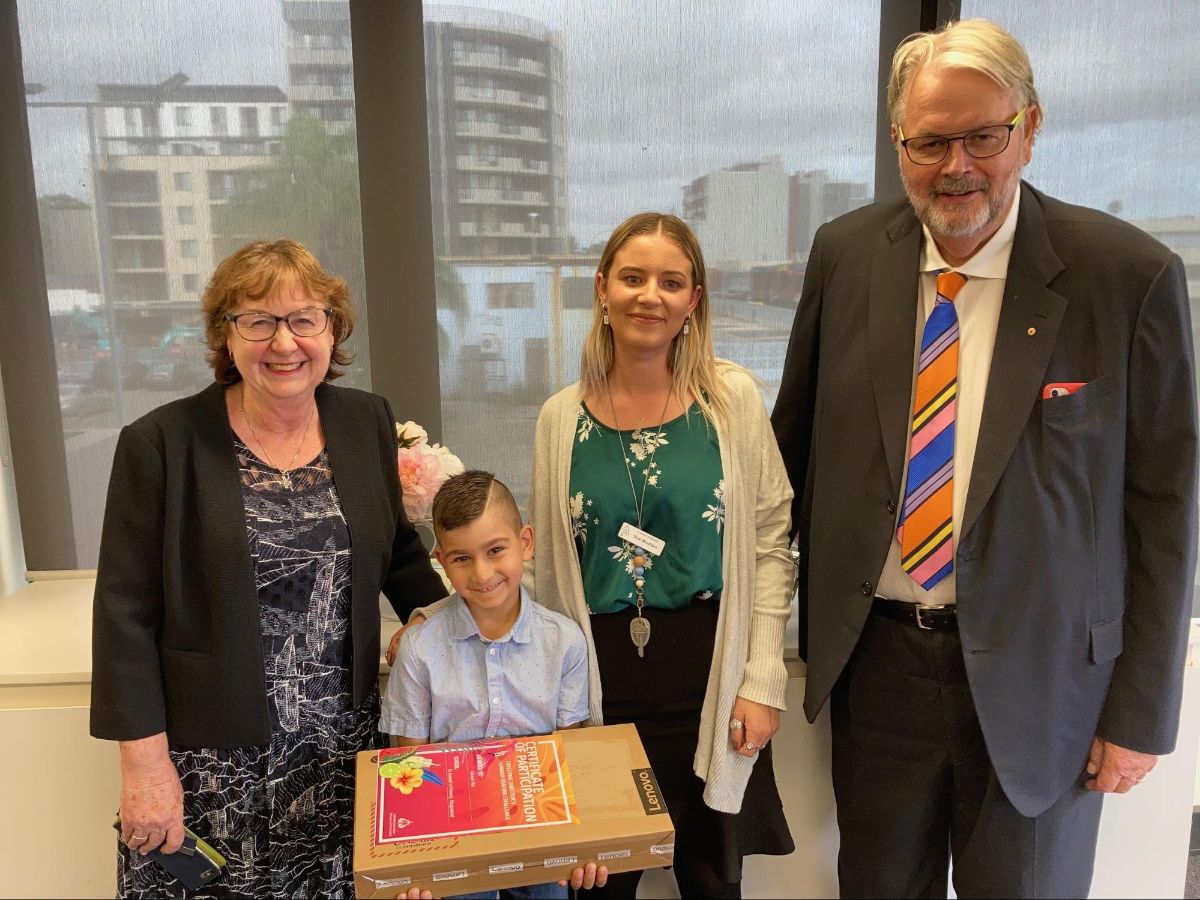 Winner Joseph Roi with his new Google Chromebook together with St Joseph's Primary Kingswood Principal Trish Reilly, classroom teacher Skye Meadows and Executive Director Greg Whitby.
Students Matilda Jenkison and Joseph Roi, their supportive families and school representatives recently gathered for a prize-giving in Parramatta where they were welcomed by Executive Director Greg Whitby.
"A love of reading sets students up for life," said Executive Director Greg Whitby. "This is such a fun way to support students with their learning over the Summer holidays."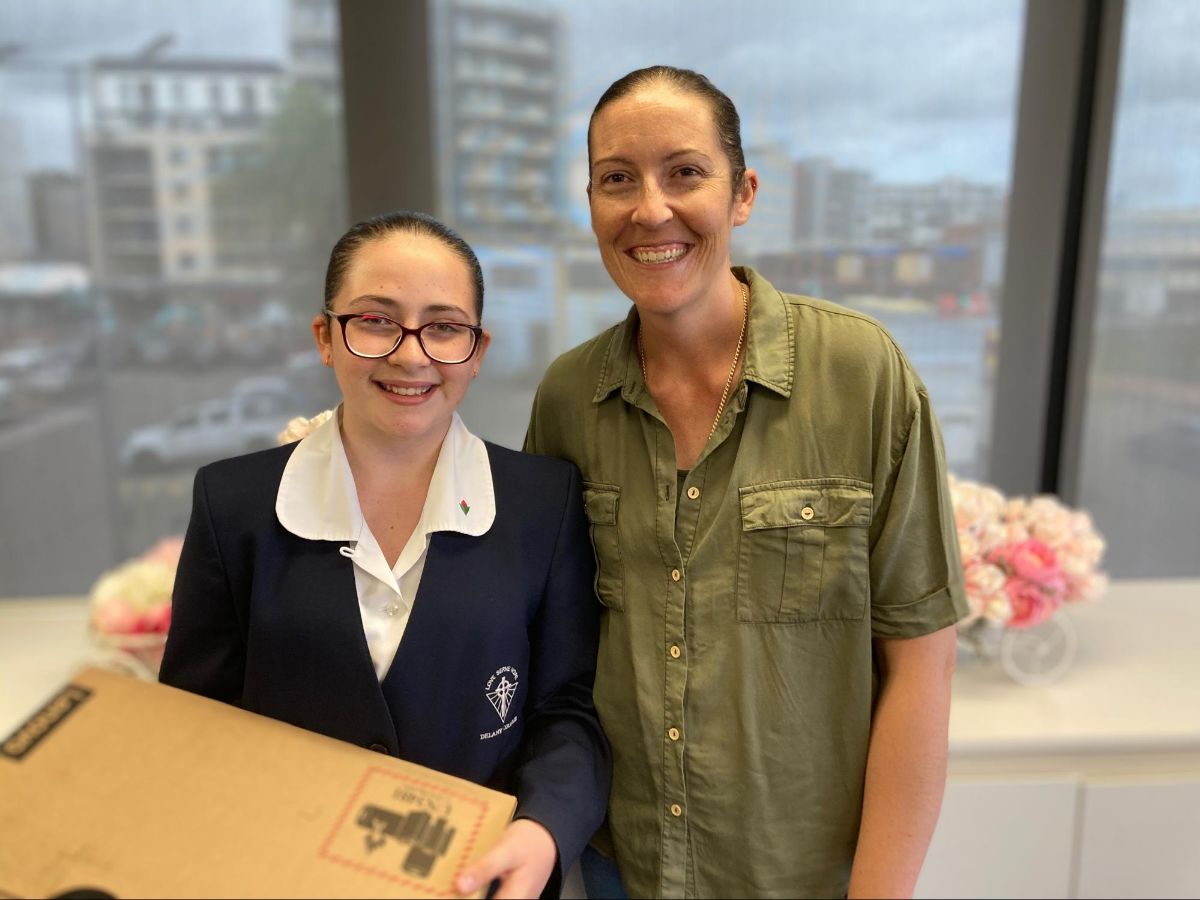 Matilda Jenkinson's mum Pauline is proud of the way her daughter "demolishes" books.
Delany College Granville Year 8 student Matilda Jenkinson is a quick reader and a huge fan of J.K. Rowling's Harry Potter series (her favourite character is Ginny Weasley). She loves getting books as presents, but her favourite school subject is actually maths!
"I gave up a bit of screentime with my friends to read books," she explained. Matilda's tip for parents and carers about supporting children and young people to become readers is that: "interest should drive children's reading".
Matilda's mum Pauline recommends patience when children are learning to read. She also spoke about encouraging children by helping them access books and extending on their interests. Pauline also said that it's important to be surrounded by people who like to read. In fact, Matilda is currently reading J.K. Rowling's new book, The Ickabog, a recommendation from her uncle.
Matilda's proud grandparents and Delany College Principal Paul Easton came along to celebrate the achievement too.
"We're all about every student getting the opportunity to perform at best," Paul said. "It's great to see Matilda's passion for reading rewarded like this."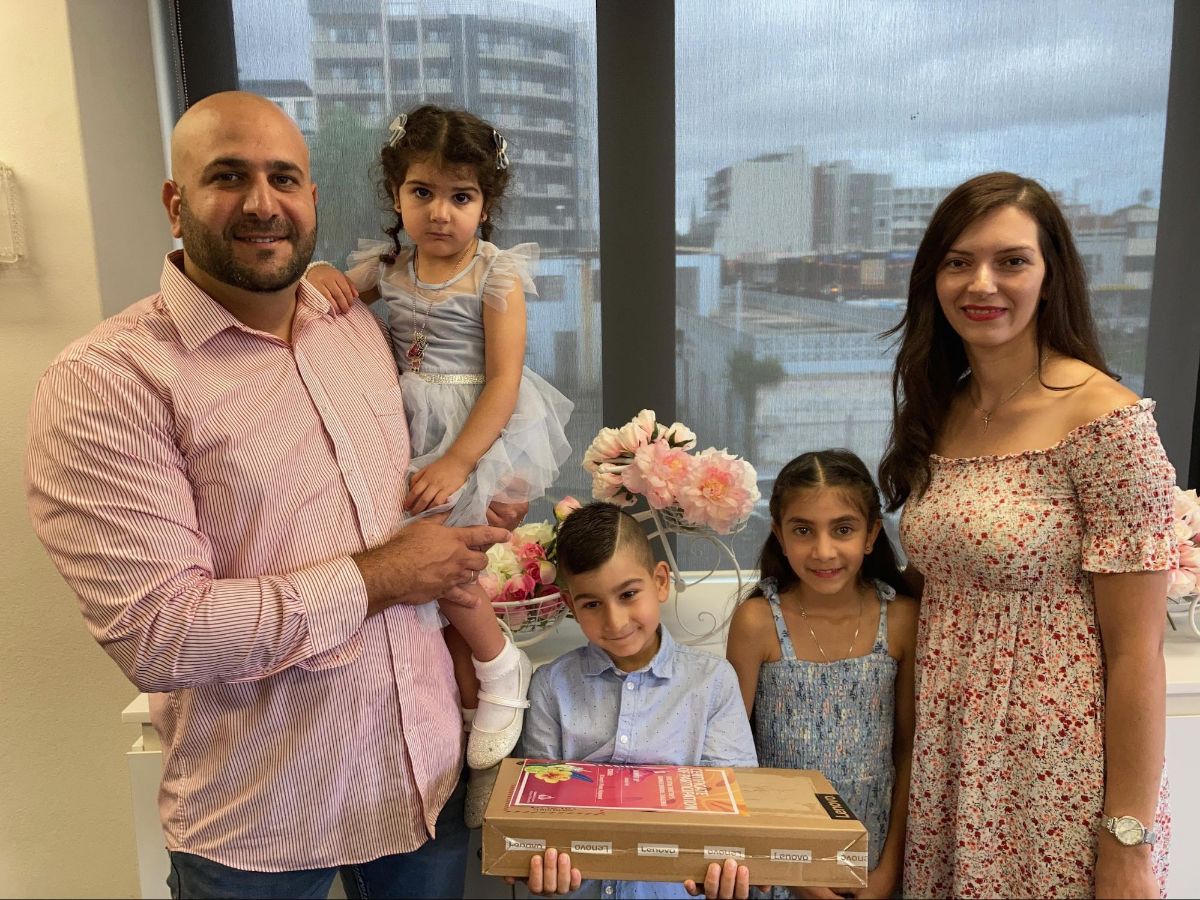 Joseph Roi's family enjoyed being part of the special celebration of literacy.
Year 1 student Joseph Roi from St Joseph's Primary Kingswood really got into online readers during the COVID-19 learning from home period. His classroom teacher Skye Meadows, who came along to celebrate Joseph's success, says that the PM e-readers made available at the school in response to the pandemic have been a really great classroom resource too.
"Joseph just embraced it," Skye said. "The students can use the e-readers in class and record themselves reading too."
His mum Rozet works with him and big sister Celine (also a big Harry Potter fan) on their reading every evening. She supported her children to enter the Executive Director's Summer Reading Challenge.
"This is a good way to encourage them to read," Rozet said.
Joseph, who plans to be a policeman when he grows up, particularly enjoyed one story about a cat stuck up a tree. He loves funny books!
The eldest of three children, Andrew was really excited to win his very own Google Chromebook.
School librarians played a big role in the success of this year's challenge, together with student reading ambassadors. The most popular authors this year were Roald Dahl, Andy Griffiths and Terry Denton, Anh Do, David Walliams and JK Rowling.
Well done to all participants! Thank you sponsors Teachers' Mutual Bank for partnering with Catholic Education Diocese of Parramatta.